If you've popped into town this week, you might have noticed our new sign. It's a pretty good size, we thought about going bigger, but decided that would be too much! 
Back in December last year, we put out our first #NowListenEre call out, for local writers to submit a poem about Burnley. Kathryn Halton submitted her piece 'Are You Listening, John Cooper Clarke?' and we knew we'd found the perfect piece! We asked Kathryn to tell us a little more about herself and her fantastic poem.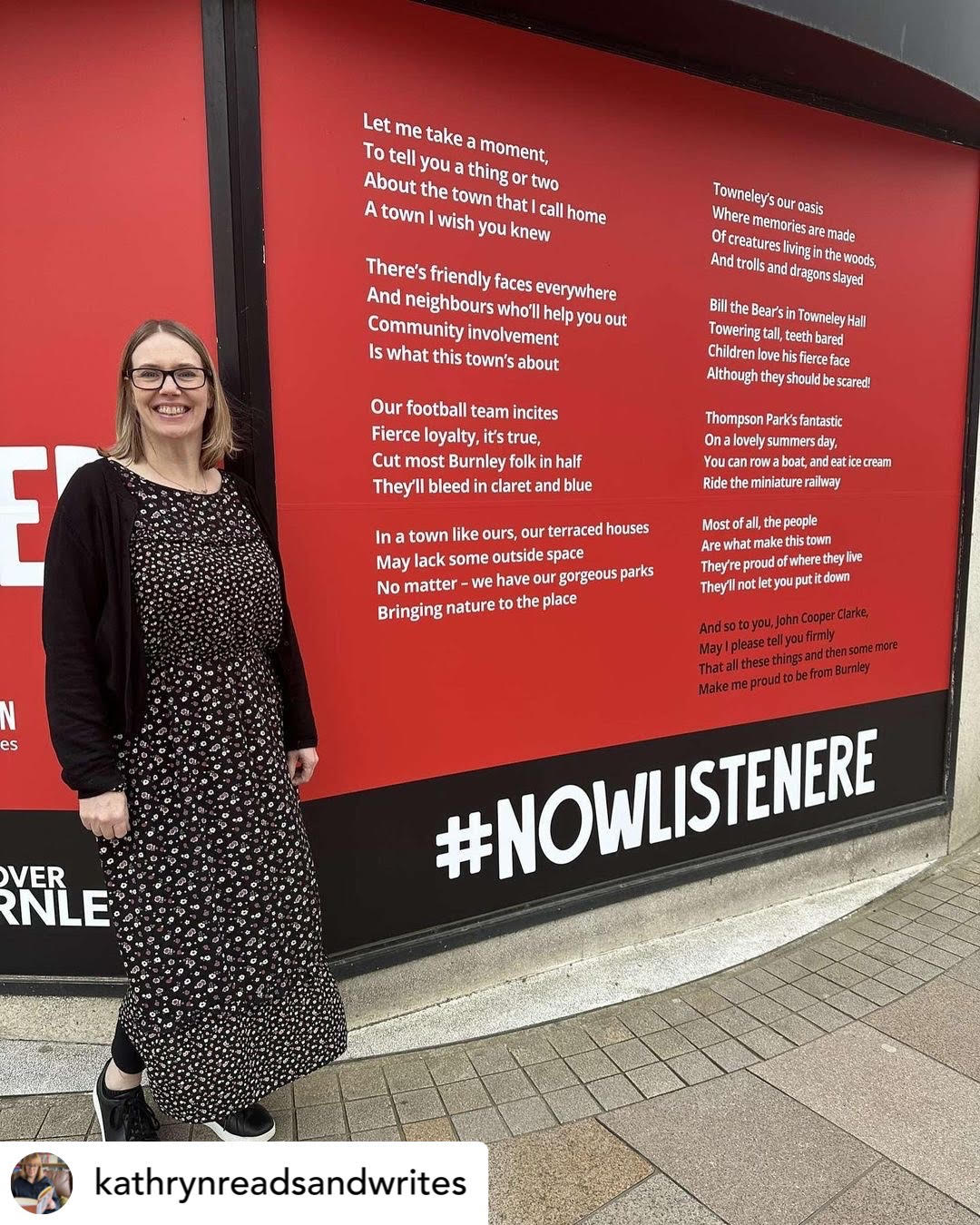 I've lived in Burnley all my life. I've always been a voracious reader, and ended up at university in York, studying English Literature and History. And like many voracious readers, I've always dreamed of being a writer too. I think I was about 9 when I wrote l my first book – a sorry little tale about a mouse who gets lost and ends up floating down a river on the back of a swan! I've been writing on and off ever since. 
I usually write short stories – I've been lucky enough to have had a couple published – but I've also written a novel aimed at young adults, about surviving your first year of high school. 
I'm drawn to writing because I'm naturally nosy – I'll be the one sitting on a train and making up stories about who the passengers are and where they are going. I always have a notebook with me – if you want to be a writer, you have to make writing a habit, even if it's just 10 minutes a day. And it doesn't matter if what you write is rubbish. What matters is that you keep going. I'm a big fan of Stephen King, and his book 'On Writing' has been a great source of creative inspiration over the years.
I remember going to watch John Cooper Clarke perform at the Mechanics in Burnley, years ago. I've always loved his work, he's a real poet of the people. When I read his poem – Burnley – and those infamous lines 'I'll tell you now and I'll tell you firmly, I don't never want to go to Burnley' the writer in me spotted the perfect opportunity, and I penned an imaginary response. I am proud to be from Burnley, I'm proud of the people in our community, our beautiful parks and of course the might Clarets! I'm fed up of the stereotypical portrayals of us that so often crop up in the media. Dirty back streets and flat caps are not what Burnley is about. 
I can't tell you how proud I feel to have my poem displayed in the town centre – I hope people read it as they walk past and think 'that's the town I love!' Pride in our town is at an all time high, with our lads in claret and blue exceeding all expectations this season, and we have much to boast about in our little corner of the world.
I'm working on a series of short stories now. I like to write stories about ordinary people, people we recognise, their relationships, their struggles, the minutiae of their daily lives. I love to read about those sorts of characters too. Jenn Ashworth's book Ghosted is one of my favourites, and I love Willy Vlautin, whose tales of life in small town America are beautifully written. 
You can find a couple of my short stories on the Fairlight Books website, at: https://www.fairlightbooks.co.uk/authors/short-story-author/kathryn-halton/  and keep up to date with what I'm reading on my Bookstagram account @kathrynreadsandwrites