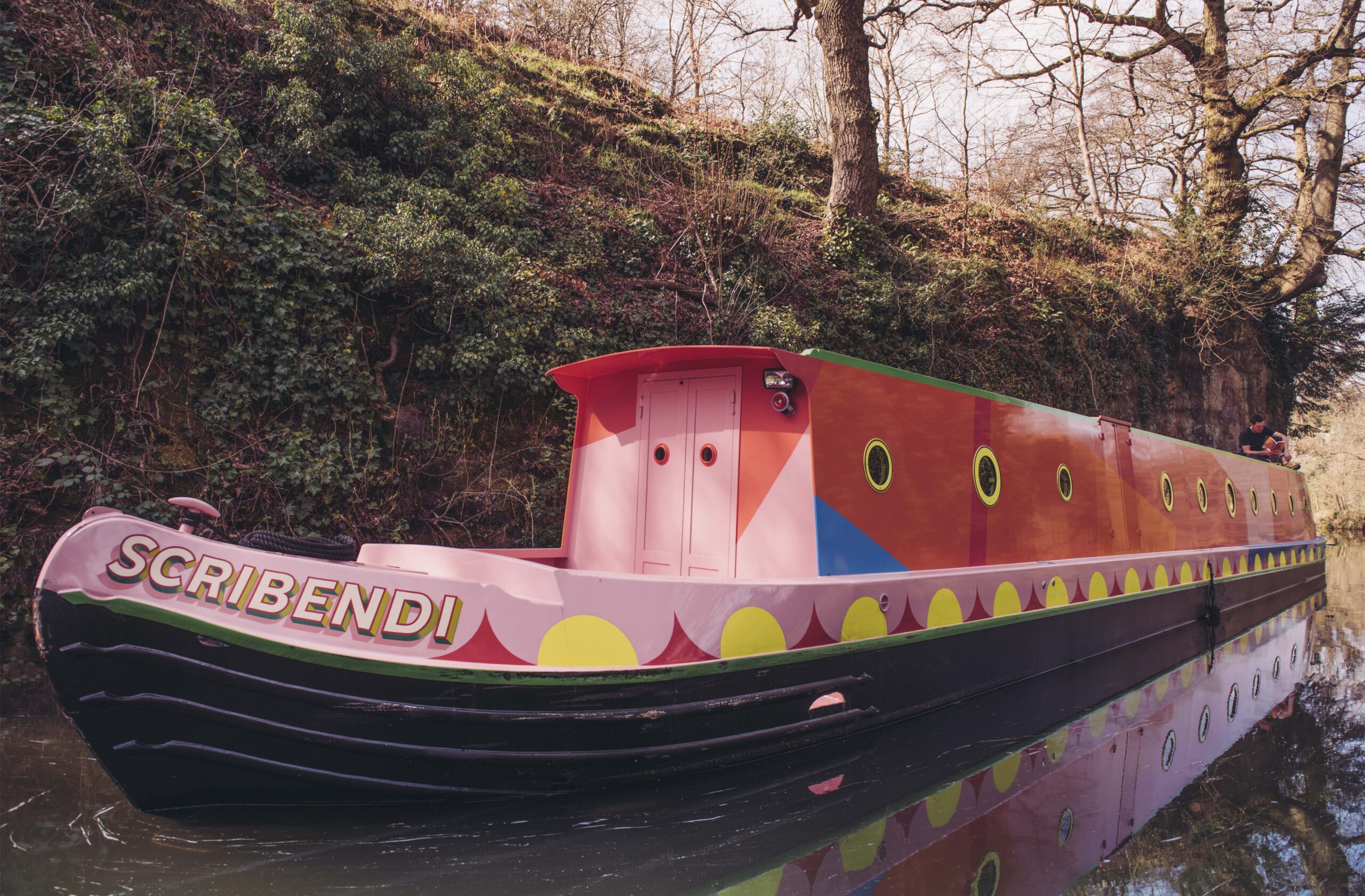 Please note:  due to safety reasons the RV Furor Scribendi has had to moor at Inn on the Wharf rather than Finsley Gate Wharf.
The RV Furor Scribendi Is In Burnley.
A Floating Library of Short Stories on the Leeds & Liverpool Canal.
Small Bells Ring by artists Heather Peak & Ivan Morison is a floating library of short stories inviting readers & writers to step on board a sculptural narrowboat called 'The RV Furor Scribendi'. Housing the UK's collection of short stories with over 1,000 books for both adults and children, visitor can enjoy our galley kitchen, main library, reading salons, children's library & writers' room.
Furor Scribendi awaits your arrival. You are free to come and go as you please. Borrow books. Rest and read. Bob in and write.
"Oh for a book and a cosy nook". Small Bells Ring is co-commissioned by Super Slow Way, in partnership with Lancashire Library Services and Canal & River Trust. Generously funded by Arts Council England and The Pennine Lancashire Linear Park pilot project, supported by the UK Government via the UK Community Renewal Fund.
Library Open 10am-5pm each day. Moored in Burnley on the Leeds & Liverpool Canal, at Whatf on The Inn, access via Manchester Road.
Good to know: Our floating library can only have 10 guests at one time, so please prepare to wait on the towpath or enjoy our comfy deck chairs during busy periods.
Access: Our floating library of short stories is not fully equipped to accommodate individuals using wheelchairs. We say this with deep regret and apologise for any disappointment or inconvenience this may cause. We value inclusivity and strive to provide equal access to all individuals, including wheelchair users. Please email [email protected] to discuss how we can make it possible for you to read and enjoy our collection of short stories, or get in touch to tell us about your access requirements because we will do our best to make your visit relaxing, enjoyable and safe.
Free to visit. Everyone Welcome. Booking is not required.
For more info visit: www.smallbellsring.co.uk For live updates follow us on instagram: @smallbellsring